FINDING A JOB IN THE NETHERLANDS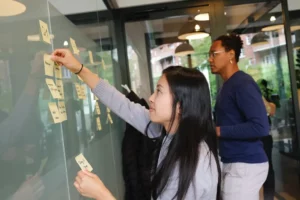 Expats seeking a new career challenge in the Netherlands will find ample opportunities. The Dutch employment market is sophisticated and boasts an impressive array of local and international companies spread across the country. It also has a vast network of specialist and generalist recruitment firms.
Many newcomers take the recruitment agency route for speed and convenience, but there are many job hunting streams that foreigners can tap into.
Skills in demand
Expats with French, German, Flemish, and Scandinavian language skills are always in demand.
The job market is also strong for experienced professionals in IT, engineers, healthcare professionals, transport, building and logistics.
……….
………
You can find more infomation about Employment and Finding a job in The Netherlands in Expat Survival Guide 2023!