Corporate Housing Factory takes residence experience to new heights with fresh online guest directory!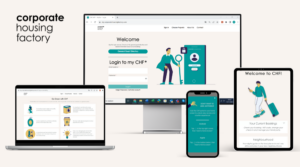 Demonstrating their commitment to continuously cater to the demands of tech-savvy business travellers and other guests, CHF has just rolled out a fresh new Progressive Web App (PWA) – my.corporatehousingfactory.com – in partnership with Maxxton.
The Maxxton system allows CHF to offer all essential information about the apartments and their neighbourhoods directly on guests' devices. The PWA introduces several new functionalities, along with a refreshed brand look and feel carefully designed to captivate the modern traveller. Guests are no longer required to download an app but may access the PWA through the browser link on their personal mobile, desktop, and tablet to find everything they need before, during, and after their stay in one of CHF's properties.
Inside the PWA, tenants can discover engaging content regarding all properties, including amenities per building and local gems like the best restaurants, shops, and medical centres nearby. Guests also gain access to exclusive discounts from CHF's partners, traditional Dutch recipes, and detailed sustainability information tailored to their unit. Plus, the app lets tenants easily get in touch with CHF for any questions or comments they might have during their stay. The app is designed to be a convenient communication hub, catering to the expat lifestyle and specific needs of the residents.
When using the PWA, the guest can make use of two distinct environments: a public and a personal one. In the public environment, guests can access information about all CHF properties. On the other hand, by logging into the personal environment, guests receive personalized details based on their stay, can schedule their check-in appointments with our Service Desk Team, and conveniently access their booking(s) and documents. These fantastic new features make the PWA a truly valuable addition to the CHF experience, setting it apart from the old app.
Corporate Housing Factory: https://corporatehousingfactory.com/
Progressive Web App: https://my.corporatehousingfactory.com/